UAV surveys in Canadian Rockies
A report by Philip Kraaijenbrink
I am visiting Canmore in the Canadian Rocky Mountains to collaborate with Joe Shea on a new unmanned aerial vehicle study led by the Centre for Hydrology of the University of Saskatchewan. The objective is to monitor snow melt and redistribution throughout the melt season using UAV surveys and in situ measurements of the snow pack. The study site is near Fortress Mountain at about 2300 m elevation and is easily accessible by a combination of car and snowmobile.
Unfortunately, the site is often used by the film industry for winter forest scenes. Miscommunication has had us travel up there last week on snowmobiles to find out we could not fly because of a movie shoot. Additionally, the movie crew considerably disturbed the snow pack of interest…
Therefore, we went off to a new site just a bit further up the ridge today. Of course only after checking the weather and wind conditions using the various self-maintained weather stations at the site. Objective: redo the entire ground control survey that was carried out at the other site and perform some UAV flights.
Conditions on the ridge were a bit windy at first but we had faith it would settle down in the afternoon for the flights. Instead of settling down though, strong wind and heavy gusts came in at lunch time. Besides not being able to fly because of the wind, pounding in ground control poles and measuring them with the DGPS rover was not even possible since the gusts made walking around in the snow with all the gear next to impossible. Turned out to be the worst winds of the whole week. Let's hope for better luck next time we're in…
Getting up the ridge with snowmobiles and toboggans.
Pannable 360-panorama of the site on Fortress Ridge and the DGPS setup.
Onset of the winds while doing the final DGPS setup.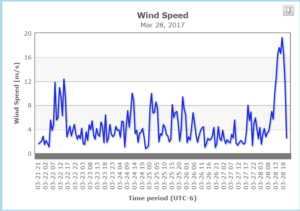 Graph of wind speed measured at Fortress Mountain over the last week.