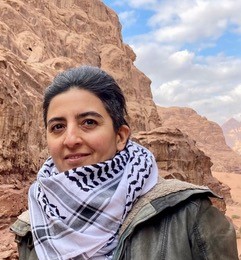 Faezeh M. Nick
Postdoctoral researcher
Faezeh holds a PhD degree in glaciology from Utrecht University. Her primary expertises is ice-dynamic modelling of glaciers. She has been working as a glaciologist for 15 years, at nine different research institutes in Europe and the US. Her focus has been on improving our understanding of ice-dynamic contributions to sea-level rise. She developed a state-of-the-art numerical glacier model, which is being used by several international groups and applied to different regions. The model is a tool to identify mechanisms controlling glacier retreat. She has used the model to study how future climate change will influence marine terminating outlet glaciers in Greenland and consequently sea-level rise.
She is currently working on a part time contract for Utrecht University, as a researcher at the Mountain Hydrology group in the Faculty of Geosciences. She works on a project that aims to improve our ability to predict and characterise seasonal impacts of different hydrological components for river fluxes in the Himalayas. She assesses current climate change impacts on the hydrology of Din Gad river in northern India, which is essential for future planning in regional water resource management and flood risk reduction.
She is also the founding director of a charitable organisation. She set up the Dasht Foundation in 2017 to alleviate environmental and social issues by inspiring local communities and providing them with solutions. Together with two other climate scientists, they aim to draw down atmospheric carbon dioxide and boost biodiversity through the planting of trees while engaging local youth in south Greenland and Tajikistan.